---
NOTE:
For regular visitors to BeachBoys.com, the name Matt Tyson should be familiar to many - his prolific output, first under the moniker The Malibus, and currently recording under his own name, Matt is one of those rare artists who is a triple-threat: writing, arranging and performing almost everything on his albums. Besides his obvious talents, he is also a huge Beach Boys fan, and his albums are often canny homages to both The Beach Boys sound, and to Phil Spector's wall-of-sound productions. He also happens to be a genuinely nice guy, and when I asked him if he'd consent to an interview for this site, he graciously accepted, and went above and beyond in his responses to my questions. You can find Matt's music at both CDBaby and SoundClick.
---

Tell about your newest album, Malibu Jukebox - what was your experience in writing and recording it?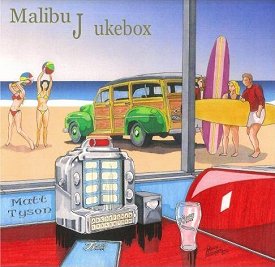 Well, I'm always writing (already have a handful of songs started for the next release) and I still have a backlog of songs started over the years so it's a kick to get a batch of songs recorded. I'm pretty psyched about this CD.

13 new songs; probably 5-6 that would be categorized as strictly "fun-in-the-sun". Uptempo and definitely Beach Boys inspired.

There's four songs that I wrote over the last couple years for the FiBERGLASS project that was started with a few friends. Unfortunately, it hasn't gotten off the ground so I decided to record them on my own because I really wanted people to hear them! Of those, "Angela" and "Talk of the Town" are a bit bizarre in a SMiLE sort of way. "Cars, Surfboards and Girls" is pure BW-homage, kind of an uptempo little brother to "My Car, My Board and You" from the first CD. It was written in response to one of the guys commenting on "Angela" and "Talk…" saying, tongue-in-cheek, to cut the weird stuff and write about cars, surfboards and girls… seemed like a great song title to me and the lyrics just jumped out. "A Quiet Place" is a bit more introspective, speaking about the noisy world around us and wishing to find a little peace ( a friend said it sounded like a "prayer to God" and I like that description).

A few of the songs are more in the modular vein. A little like "Tidal Wave" from California Myth but not as long. "Details" is sort of Beatles meets Beach Boys 1967, though the lyrics are more topical about the media culture that we live in. "I'll be True To You" is a satiric love song about growing old with each other. "That Kind of Girl" is more straight forward with a few weird bridges/codas thrown in. "Angela" and "Talk…" are also in this modular style.

"I Wanna" is a 70's era BB-type song. It has some of the same lyrics from the California Myth version but is really a totally different song in tempo, melody, chords, style… It was actually written this way first, but sat around for a year until I realized that I really liked this version too.

"Belief" was the last song written for the CD. Basic straight forward power pop with spectorian production and BB backing vocals. A Christian-themed lyric about keeping the faith in the face of adversity.



You're quite obviously a big Beach Boys/Brian Wilson fan, when did you discover their music? What are your favorite Beach Boys songs/albums?



I can remember distinctly, hearing "Fun,Fun,Fun" while riding in the car with my father. I wasn't even into music at all back then (had to be maybe 7-8 years old at the time) but I recall thinking that sounds kinda cool. Then around 1967 I finally got into the fact there was all this music being played that was intriguing me. Backtracking as the Djs played "golden oldies" I fell in love with doowop and then the Beach Boys. Buying their old 45's when I could find them. I think the first album I bought after The Monkees (which I still love their first three albums) was "Best of the Beach Boys vol 2" - what a great collection of songs! I was smitten. I quickly spent any money I had on their other albums when I could find them.

Interestingly, I just realized that many of my favorite BB songs are on that "vol 2" - "I Get Around", "California Girls", "Don't Worry baby", "Please Let Me Wonder", "When I Grow Up", "Help Me Rhonda". I had actually never thought of that before because I haven't listened to any those "Best Of's" since I bought all the regular albums!

Other songs that I deem essential BB/BW are "Good Vibrations", "No Go Showboat", "Little Girl I Once Knew", "She Knows Me Too Well", "I Just Wasn't Made For These Times", "Girls On The Beach", "Heroes and Villains", "Cabinessence"… really the list is endless, but these will do.

My favorite albums are "Today", "Pet Sounds", "Little Deuce Coupe" .



When did you discover your own talent for writing/singing and arranging?



I think around seventh grade I decided to teach myself how to play guitar - mostly because I wanted to write songs. It was all pretty derivitive music, but being a huge fan of the BBs and Four Seasons I always thought in terms of back-up vocals. Though I had no way to realize that part of it until the mid-seventies when I spent my savings on a Teac four track recorder. Total jolt to my writing/arranging because I could finally layer instruments and vocals.

I have to add that I rarely played in bands - I know my limitations, and I am no "performer". Quite introverted actually. I think I can hold my own as a songwriter and feel that I am a pretty good arranger/producer… but you will probably never see a Tyson concert. It's just not me. If this was the sixties I'd be that guy writing and recording the songs and sending a "band" out to tour! Not likening myself to Brian Wilson, more of a Ron Dante… though I'm not as good as him either.

Anyway, back to the question; my other strong suit is that I am prolific. I'm constantly writing and recording (probably because I don't go out and gig). Which is why I put out a couple "covers" disks too. The last year has seen me release two CDs done with separate friends (Kayenta and Cinnabar), an ambient/electronica solo CD titled A Question of Art and the Christmas CD.

I would say that any skill I have at arranging (and producing for that matter) comes from studying BW songs and productions. Which is probably obvious, but even in my non-BB sounding songs/projects.



How many instruments do you play? What are they?



As the saying goes, "a jack of all trades and master of none"… I'm basically a guitarist and a little bass, but I dabble in keyboards and percussion. I actually view synth and software as my "session guys". They have enabled me to get the ideas in my head down on tape. My studio has a handful of synths and a MIDI drum set. My main guitars are Gibson SG and an Epiphone acoustic. I also use a MIDI guitar that I have had for twenty years. I use it, at times, in lieu of keys for MIDI input but also use it as regular electric guitar quite a bit.



What's your musical background/training? What other artists do you admire?



My training is almost entirely from listening and making myself study the music that I like - which encompasses a lot. From bubblegum to prog, baroque to Brill building.

I ran a small studio for 10-15 years (which is where the Woodshed Studio name came from) and that was good engineering training. I really only have the studio in my house now, almost exclusively for my own projects. I started with the Teac 4-track in the mid-seventies and gradually worked my way up to a Fostex 8-track. Then on to 16 track ADAT when I opened the studio. About ten years ago I went to hard disk recording with a Roland 1680 and now do virtually everything with Sonar (multitrack audio/MIDI recorded direct to computer).

The artists I admire are mostly of the highly arranged and well produced variety. Usually with lotsa vocals and harmony.

60's stuff like the Beatles, Monkees, Turtles, Melcher produced Raiders stuff and I really like what Bob Crewe did with the Four Seasons! From the 70's it's Queen, 10cc and Pink Floyd - but my real heroes of the 70's are little known English artists City Boy and Brian Protheroe. City Boy in particular wrote interesting arrangements/songs with great lyrics, a guitarist of the Brian May type virtuososity and phenomenal vocals. They were produced by a young Mutt Lange (pre-ACDC and Def Leppard). They even did many layered endings ala Brian Wilson! I have released a couple of CDs under the name In A Cage over the last couple years that are more in this vein. …. I told you music is my life…

There is still plenty of modern things that I like but I don't know if much of it influences my music (at least not my 60's sounding stuff).

...I should have clarified that running the studio (and writing and recording for that matter) are basically just hobbies... not my career, alas. I am self-employed, work outdoors and luckily, am "of an age" that I can more or less take the winters off now. I ran the studio at nights and weekends, and winters afford me some extra time to complete these musical projects. Don't want people to think I am some high-falutin' engineer/producer or anything... I do spend an inordinate amount of time with music though (much to the chagrin of my wife, I suppose).



How does the compositional process work for you? Which comes first, the music or the lyrics?



Normally music comes first, though I prefer to have lyrics when possible. Mostly because lyric writing is far and away the hardest part of song writing! I am very ruthless with lyrics and am often editing words right up to releasing the CD… Doesn't matter if it's "Go Little Malibu" or "Sometimes I Need To Be Alone", I sweat over lyrics.

Often I think of a hook lyric (just a title phrase or maybe a whole chorus) when the music starts to come and then I'm stuck with making that into a song with all the lyric writing. Writing is harder than recording but I do enjoy it.

Really (like most any songwriter), the process is almost always different. Whenever inspiration hits you follow it! Could be lyric or music, snippet or whole verse… often listening to some other song gives me the urge to write something similar in style. But once I have an idea I'm pretty tenacious in following it through!



What equipment/software do you use to record your albums?



As I said I use Sonar for everything with the 1680 acting as a front end (for getting guitar, synths and vocals into the computer). The bass, piano and drums are software synths these days along with a Korg Triton. This "Tyson" stuff relies more on vocals so I use a lot computer plug-ins for EQ, echo and reverb, etc. I still use a Sony mic that I purchased with the Teac thirty-some years ago ( I view it as my secret weapon)!



Who else helps you with your writing/recording process? Any regular collaborators?



The first album had one collaboration - "The Calm Song", which was a Pet Sounds-esque instrumental track that a friend did (Barry Thomson) and I added a melody and lyrics.

Tim Kleier (the Big Kahuna) is a guy that contacted me after buying one of my early CDs and asked if I was interested in any surf/hotrod lyrics. It's really hard to keep coming up with so many surf/hotrod songs for these releases so I was intrigued. He contributed a few song lyrics on "California Myth" and now also a few more on the new "Malibu Jukebox".



Do you create all your own vocal arrangements? Tell me about that process.



It's rather daunting at times, but everything you hear on one of my CD's is me… for better or worse. Johnny Proctor added some guitar to "Ride with Me" and Barry Thomson had all the instruments done for "The Calm Song", both off the first CD. Other than that, I am to blame for the instruments and vocals.

Now with the arrangements - this is where the real fun is for me! It's probably pretty obvious that I love harmony and interlocking vocal parts. I try to stay away from strictly block harmonies all the time. Instead I try to think of back-up vocals as separate melodies when possible - certainly something I got from listening to Brian Wilson. I'm not a great singer so I try to make the vocal arrangements as interesting as possible.

I think I am a pretty good songwriter and a passable singer at best. But I believe my talent is more in arranging and, to a lesser degree, producing. So I live to come up with these vocal arrangements!

Sometimes I will write out an arrangement. "My Car, My Board and You" is a good example of one that was totally planned and mapped out. Other times I will just sing parts until they sound good to me (more or less jamming with myself) and then refine them from there. "I Wanna" from Malibu Jukebox is an example of this approach.



Where do you get your ideas for songs?



For these Tyson CDs I rarely write from my own experience - never having surfed and knowing virtually nothing about hotrods (other than the music). I tend to view it as if I was a novelist making things up.

Though I certainly play off of my emotions to write songs too - "Belief", "Still Standing" and "A Quiet Place" off the new CD come to mind.

Obviously a lot of the music is homage or emulation of my favorite songs.

Speaking of song ideas, here are a few interesting 'inspirations'; "Judy Knows Malibu" came to life while surfing the 'net. A banner ad for a realtor had the headline "Judy knows Malibu", I immediately sang that phrase and had a new song started! "You Shoulda Been HereYesterday" came while looking up surf terms for some other song. It was listed as words a surfer hates to hear - seemed tailor made for a 60's type song… another song started!

"Go Little Malibu" was largely written directly from a gearhead website paragraph describing a '65 Malibu. "Still Standing" was started as an homage to the old songs that still sound great today and are still inspiring artists - though it happened that about the same time I started the song I had a legal hassle with a band called the Malibooz, that wanted me stop using the Malibus name. So there are some little digs aimed at them in the song too. And then some of the lyrics become a "thank-you" to the people who buy my CDs (or at least like some of my music). You never know where a song will lead…



Is there anything you've learned over the years in the songwriting/recording process that you'd like to share?



Learn by doing. But also studying theory, music you like and different styles are a big help too.

Use inspiration as it comes (and where ever it takes you)!

When using EQ; it is almost always better to cut one frequency rather than raise another!



OK, I have to ask - what's with the bikini'ed cats on the tray photo from your California Myth album?



I thought the picture was a silly version of the "two girls for every guy" concept.. Though I'm not much of a cat-person.

I wanted to see if anyone noticed… and you're the first person to mention it.



Some of my favorite tracks from your albums have been ones that have veered away from the Beach Boys/Phil Spector formula - songs like "Angela" and "Talk Of The Town" which were written for other projects - and I would add "Felicity" "A Little More Love" and "I Don't Mind" to the list. They've surprised me by their unique "voice". Would you say these songs reflect your own personal music style?



I hardly ever think I have a personal style. Just a culmination of my influences. But I am glad that you see it that way. And I'm very glad that those mentioned are some of your favorites songs!

As for "Angela" and "Talk of the Town"; to be more exact, they were actually donated to the Fiberglass project… Both were written 10-20 years ago. It was my understanding that the "F" project was to be more smile-ish, so I dug these out and gave them a little bit more of a BW style. With a lot of the songs I have written over the years, I find it easy to put a BB/BW spin on them. For example, "The Unexpected" from the first CD was written as a Dan Fogleberg-esque acoustic guitar song more then thirty years ago. But it became a more ambient (Pet Sounds percussion) arrangement, I threw in a bit more of a BB vocal style and added the smile-ish coda/ending.

Even as much as I love the 'early" Beach boys style music (probably pretty obvious from my CDs) I really do enjoy sneaking a few of the more odd songs in too! While "Felicity" and "I Don't Mind" still have that 60's vibe (I like a lot of other 60's bands too), "A Little More Love" is certainly more like an ELO song, though it was originally written to be more like Supertramp (mostly in the arrangement) the piano intro is the only thing that survived from that. Again, the breakdown before the solo/ending was added to make it more like a "Malibu" thing.



Do you have a system for self-critiquing your songs? Who do you bounce ideas off? Any songs that end up on the cutting-room floor?



I suppose I am probably my own worst critic, so I'm pretty ruthless with my singing, writing, recording. That's not to say I think every song comes out perfect - but even with four releases now, I don't cringe at many of the included songs. I know there are some songs on all the CDs that could be viewed as filler, but oddly enough, some of the songs I would put in that category end up being favorites of people I hear from!

"Can't Make Up My Mind" from Now! is an example that has grown on me. It was written long ago as sort of a Hall & Oates type song called "How Can I Be So Sure". I totally changed the chorus, and did a few other things to make it more of a 60's sounding thing. I wasn't sure if I tried to hard to include it on the CD but I really like it now!

I am constantly editing songs and some things do probably end up on the cutting room floor, but I rarely totally write a song off, they may resurface at any time… As I said, I already have a few songs started that will be on the next release- two, in particular that I think are really gonna be cool (and are basically all done ).

With this new stuff I should try to document the versions of a song as I edit and rewrite and tinker, to compare at the end… could be interesting.

I was surprised to learn that you have other albums out that aren't under your "Matt Tyson" umbrella. Tell me about some of your other projects... like

In A Cage

.

The first In A Cage CD was done as a purely guilty pleasure - deciding to just record what ever struck me at the time. It runs from prog to bubblegum, summer-of-love to Renaissance Faire… I viewed it like my favorite mid-70's albums (10cc "Sheet Music", Queen's "Sheer Heart Attack" and City Boy's "Young Men Gone West") that just leapfrogged genres and styles and instrumentation. I had a little spare cash to press some CDs and thought that with CDBaby it wouldn't cost much to put it out and see if anyone liked it. It sold (and still sells) very modestly. Because everything I do has the stamp of BW influence, this did too. A couple songs much more obviously than others. That's really what led me to do a more focused CD and 60's stuff seemed like a good idea.

The second IAC album is "Ilrod's Journey", more or less a concept album/rockopera/musical. It was started with a friend named Gary Judge, who I've played and written with over the years. He kinda lost interest after a few years of kicking the idea around and writing a few songs. I love concept albums and I thought this had merit so I kept writing. I honed the story a bit more and fleshed out almost all of the lyrics. When I let Gary hear what I had been working on, he got interested again. We finished up the songs we had started together and I worked on segues and connecting bits so the album would have a seamless style with the songs kind of melting into one another.

Except for a song or two I did all the singing and a good share of the instrumentals so in the end I figured releasing it as IAC wasn't without merit.

Musically it still covers a lot of genres and styles but is more focused than the first IAC album. One of things I love about it is having repeating motifs - where one time a song might be dramatic ballad and then later in the album it may become a techno-beat lyrically humorous song (with the same chords and melody)! It was a lot of work, but I am really proud of it and I think sonically, it is some of the best stuff I've ever done.

One thing with IAC, is it gives me a chance to be more adventurous lyrically. I really like lyrics and wordplay - "Angela" and "Talk…" are good examples but it is also what makes them sound less Beach Boys. That is not a bad thing in my mind - in a perfect world I would combine the two entities (IAC and ?Malibu?) and slowly I am trying to do that to a certain extent. I have a short attention span so these other projects keep me from getting bored. I do like your comment about having this stuff under one "umbrella". I think you'll see a bit more of that on my CDs in the future.




What's next for you?



Hope to put out a little Christmas EP (3-4 songs) before the holidays. Hope to have another CD ready by next summer. Also over the winter I will be working on a slightly more modern sounding CD with my cousin (a great guitar player) - quite a bit heavier sounding than my "Tyson" CDs, probably closer in spirit to my In A Cage stuff.



Anything else you'd like to share with the readers of BeachBoys.com? Where can people hear/learn more about you and your music?



Well, I love what you have done with BeachBoys.com! A great source for BB/BW related music and reviews. Thank you very much for reviewing my CDs there, by the way!

As far as finding more about my music; my sound click site always has a lot of music available for sampling - some releases from the CDs plus a ton of cover tunes. http://www.soundclick.com/matttyson

Also smaller samples from all the CDs at CDBaby
http://www.cdbaby.com/Artist/MattTyson

Another great site for BB related material is Prayforsurf.net

For anyone interested, you can also find the CDs and song samples of Kayenta, In A Cage, Question of Art and Cinnabar at CDBaby and soundclick.