INTERVIEW WITH THE NEW SURFSIDERS

---
NOTE:
Anyone who reads the reviews on this site knows that I have a strange, unnatural affinity for The Surfsiders, the early 60's anonymous cover band whose album, The Surfsiders Sing The Beach Boys Songbook, is one of the great BAD albums of all time, due to it's ham-fisted doo-wop arrangements, full-throated singing, and barbershop-by-way-of-frat-house mentality which truly sets it apart from other, similar albums. So - when I heard news of a group calling themselves THE NEW SURFSIDERS - I just had to hear them. Thanks to a couple of YouTube clips, I discovered that yes - the group was real, and yes, they had released several 45-RPM singles on New York-based label Norton Records. The sound, execution, and attitude of The New Surfsiders so closely matches that found on the original 60s band that I HAD TO KNOW - Who are they? What are they? and probably most important - Why -- WHY, DEAR GOD are they? So here, for the first time anywhere, is the first, the only interview with that mysterious, mesmerizing group: THE NEW SURFSIDERS!!! (Click on the album covers to go to Norton Records to purchase these one-of-a-kind records - perfect for bar mitzvah's and other gift-giving events.)
---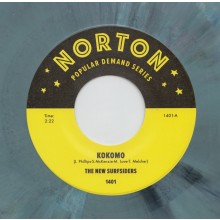 First of all, the name: "The New Surfsiders" — any relationship at all to the original, or "classic" Surfsiders? Or would you call this a "spiritual continuation" of the band's legacy?

You mean, like are we the sons of the original Surfsiders? We wish! If we were, just imagine! We would all get together and form a Super Surfsiders Family Supergroup! And then we'd get The Beach Boys to be our opening band on our worldwide tour! But they wouldn't be allowed to cover any songs that we do. Not that we'd care, but our fans wouldn't like it if The Beach Boys stepped on our toes, and people like to go to concerts for music, not riots.

How did The New Surfsiders come to be? What specific talents does each member bring to the band? And, like Dennis Wilson in The Beach Boys, does The New Surfsiders have a "sex symbol" within the group?

Just one listen to "The Surfsiders Sing the Beach Boys Songbook" inspires action in just about anyone who hears it. The action it happened to inspire in us is to carry on that group's legacy as only we can. As for who's the sex symbol in The New Surfsiders, don't misunderstand — we get our share of catcalls and whistles from the ladies, believe you me. But that's just a sidelight as to why we make the music we make. We're recording artistes first and foremost. We're content to leave all that pop idol stuff to the teenybopper bands like One Direction and The Newbeats.

How does the group deal with the pressures of living up to the awesome legacy of the Surfsiders?
It's a burdensome weight that each of us has to lug around 24 hours a day. Between countless hours of rehearsal and a grueling tour schedule, it's a gauntlet with no relief in sight. We eat, drink and think New Surfsiders because at this point we don't know how to exist any other way.

I consider both the "classic" Surfsiders and The New Surfsiders to have a punchy, raw rock 'n'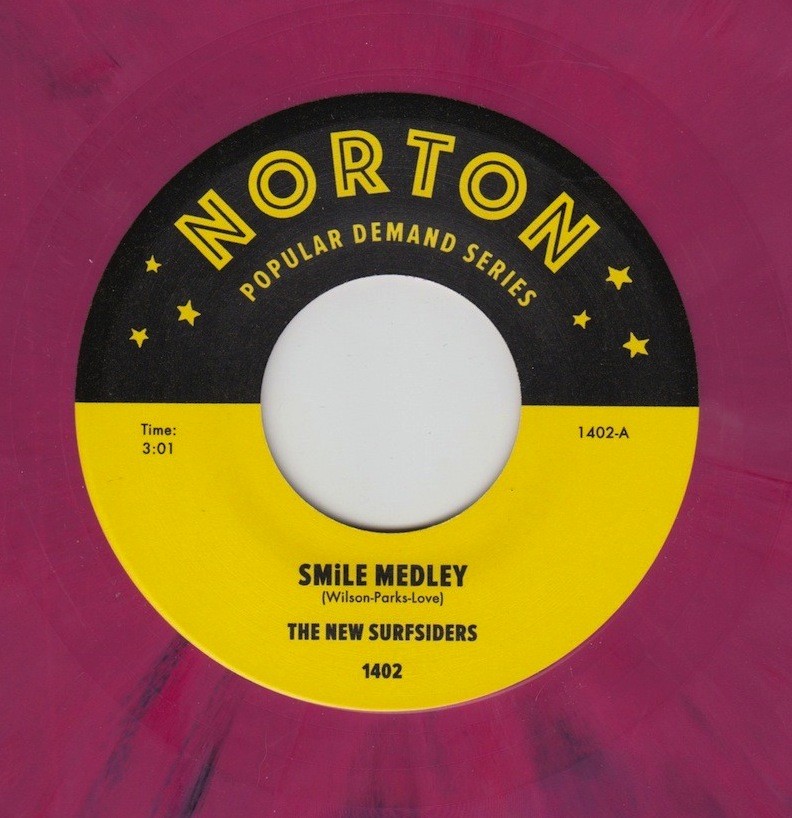 roll sound. How would you describe The New Surfsiders sound to those hearing you for the first time? And how do you achieve that defiant "in-your-face" ambiance in the studio?

We tell people that if they like good music, they like the New Surfsiders. Sure, it's rock and roll, but it's so much more than that. We look around and there are honestly no groups doing what we do, and not doing it nearly as well as we do. As for getting "that" sound, we don't use any studio trickery. It's just a question of capturing on tape what we sound like on stage. We wouldn't even know where to begin to manufacture our sound.

Besides (obviously) The Beach Boys, what do you consider The New Surfsiders main musical influences? What's on your turntables right now?
The Surfsiders.

The Surfsiders LP.

You've daringly decided to cover some post-1965 songs from the Beach Boys songbook, including Dennis's "Never Learn Not To Love" and Brian's "'Til I Die" — do you consider this a new direction for The New Surfsiders? A darker, moodier direction?

When we met with the folks at Norton Records, we debated this for a while. We all knew it would be a good musical choice, but we were a little afraid of alienating our fans. At the end of the day, we prayed on it for a while and decided that we would let the public vote with their pocketbooks. And we're happy to report that these records have been selling just about as well as the earlier ones!

How challenging was it to adapt the lengthy, complex SMiLE album into your 2-1/2 minute poptastic single medley?

We look at it like we're telling a story — you want a clear plot, well-defined characters and a dramatic curve. That's how we approached SMiLE. We wanted to make it accessible to the average person, while retaining the nuance of the original. I daresay we hit it out of the park.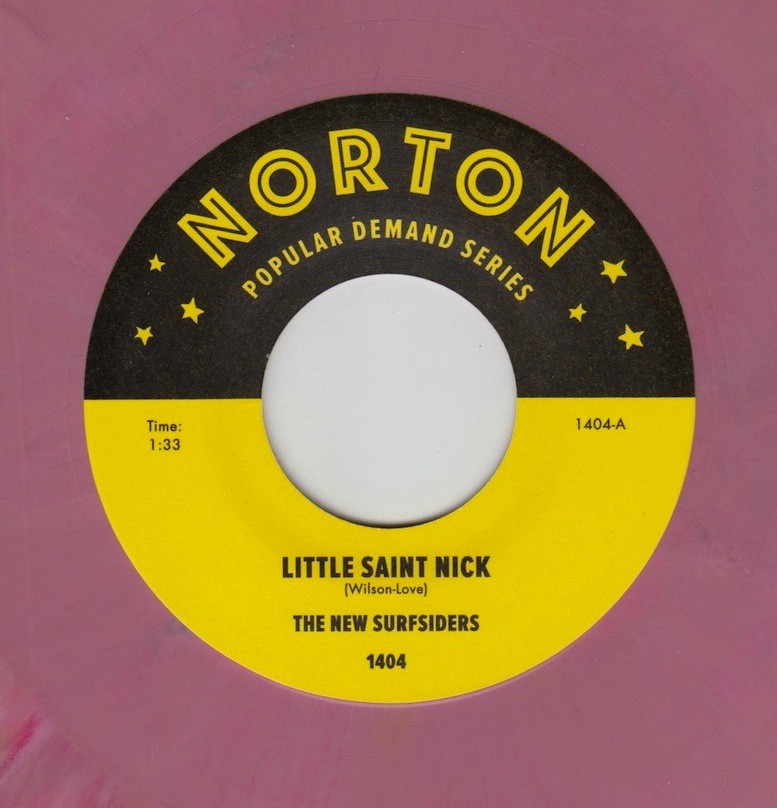 Would you be willing to reveal the behind-the-scenes battles for the song choices which made the final cut?

A phalanx of focus groups, girlfriends, our parents and an invisible genie that only we can see named Officer Wells are responsible for choosing our final song selections. (Okay, part of that answer is obviously a joke. We don't have girlfriends.) But ultimately the decision rests on us. The thing is, we rarely disagree on our song selections or our musical choices when it's time to make the music happen. The harmony is not just on our records; it can be found within our group as well. It's as if we're a bunch of guys with just one brain.

The gutsy choice of releasing your singles in MONO sound, and in the 45 single format — no concession to modern digital technology? Discuss:

I thought they were in stereo. They're not?

Do you take requests for future projects? Filmmaker and Surfsiders fan Steve L. would love for you to cover "Everyone's In Love With You." Possibility? And any chance for an entire LP's worth of New Surfsiders material? Maybe some covers from the Beach Boys most recent album? (I know I would be first in line to purchase!)

We are happy to report that the fine folks at Norton Records are going to release a new New Surfsiders single in time for the holiday buying season. We don't want to spoil it, but we can tell you that it will be one song recorded live on stage at a personal appearance, plus one song recorded at an impromptu New Surfsiders party where we sat around with friends playing some of our favorite songs on whatever instruments were lying around. Look for it in late November!

And finally, there are always unenlightened detractors out there — how do you answer your critics who say you shouldn't (I quote the immortal Mike Love) "f*** with the formula?"

We'd like to think that Mike Love, despite his potty mouth, would make a pretty good New Surfsider. However, as he had admitted to having difficulty with Brian Wilson's more challenging musical arrangements, he might have even more trouble with the vocal and instrumental complexities we introduce into the Beach Boys catalog.

Final thoughts?

As a great man who inspired the great men who inspired us to become the great men we are once said, "Loosen up! Be Happy! BE HAPPY!"
---