---
NOTE: Many visitors to this site desire to know basic information about the Beach Boys, specifically, who is still surviving (Brian Wilson, Mike Love, and Al Jardine), who has passed on (Dennis Wilson drowned in 1983, Carl Wilson died from cancer in 1998), and who is now touring (Brian Wilson tours as a solo artist, Mike Love tours with Bruce Johnston (who joined the Beach Boys in 1965) as "The Beach Boys") and Al Jardine occasionally tours with his own band. This page is to give a brief overview of the Beach Boys lives and careers.
---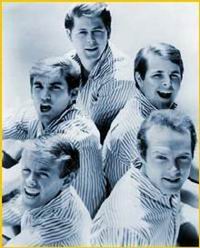 The seminal line-up comprised Brian Wilson (b. 20 June 1942, Hawthorne, California, USA), Carl Wilson (b. 21 December 1946, Hawthorne, California, d. 6 February 1998), Dennis Wilson (b. 4 December 1944, Hawthorne, California, USA, d. 28 December 1983), Al Jardine (b. 3 September 1942, Lima, Ohio, USA) and Mike Love (b. 15 March 1941, Baldwin Hills, California, USA). When the aforementioned three brothers, one cousin and a schoolfriend formed a casual singing group in Hawthorne in 1961, they unconsciously created one of the longest-running, compulsively fascinating and bitterly tragic sagas in popular music. As Carl and The Passions, the Pendletones and Kenny and the Cadets, they rehearsed and played high-school hops while elder brother Brian began to demonstrate his songwriting ability. He was already obsessed with harmonics and melody, and would listen for hours to close-harmony groups, especially the Four Freshmen and the Hi-Lo's. One of his earliest songs,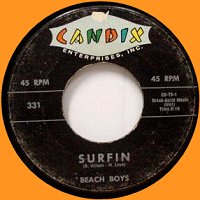 'Surfin'' (written at the suggestion of keen surfing brother Dennis), was released on a local label, and the topical name 'Beach Boys' was innocently adopted. The domineering father of the brothers, Murry Wilson, immediately seized on their potential and appointed himself as manager, publicist and producer. After his own abortive attempts at a career in music, he began to live his frustrated career dreams through his sons. 'Surfin', with Murry's efforts, became a sizeable local hit, and made the Billboard Hot 100 (number 75). His continuing efforts gained them a recording contract with Capitol Records during the summer of 1962. In addition to the developing group's conflicts, Nik Venet (the producer at Capitol) became embroiled immediately with Murry, and their ideas clashed. Over the next 18 months the Beach Boys had 10 US hits and released four albums of surfing and hot-rod songs (each cover showed the photograph of neighbourhood friend David Marks, who had temporarily replaced Al Jardine while he attended dentistry college).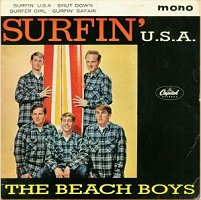 The Beach Boys' punishing workload began to affect the main songwriter, Brian, who was additionally writing similar material for fellow surf/hot-rodders Jan and Dean. In 1963 the Beach Boys phenomenon reached the UK in the shape of the single 'Surfin' USA', which mildly interrupted the Merseybeat domination. The predominantly working-class image of the British beat group scene was at odds with the perception of the clean and wholesome West Coast, blessed with permanent sunshine, fun, and beautiful girls.
During 1964 a further 4 albums were released, culminating in the Christmas Album. This represented a staggering 8 albums in just over 2 years, 6 of which were arranged and produced by Brian, in addition to his having written 63 out of a total of 84 songs. In America, the Beatles had begun their unmatched domination of the charts, and in their wake came dozens of groups as the British invasion took place. The Beach Boys, more especially Brian, could only stand back in amazement. He felt so threatened that it drove him to compete against the Beatles. Eventually, Brian gained some pyrrhic revenge, when in 1966 the Beach Boys were voted number 1 group in the world by the UK music press, pushing the Fab Four into second place.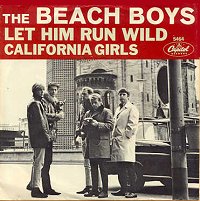 Wilson's maturity as a composer was developing at a staggering pace with classic hits such as 'I Get Around', 'California Girls' and 'God Only Knows'. The overall quality of albums such as Summer Days (and Summer Nights!!) and Today was extremely high. Many of Wilson's songs described his own insecurity as an adolescent. Songs such as 'In My Room', 'Wouldn't It Be Nice' and 'Girl Don't Tell Me' found a receptive audience who could immediately relate to the lyrics.
While the group's instrumental prowess was average, the immaculate combination of the members' voices delivered a sound that was unmistakable. Both Carl and Brian had perfect pitch, even though Brian was deaf in one ear (reputedly caused by his father's beatings). In private, the 'musical genius' was working on what was to be his masterpiece, Pet Sounds. Released in August 1966, the high-profile pre-publicity proved deserved, and the reviews were outstanding. The music on Pet Sounds was staggering, but for some inexplicable reason, the album sold poorly compared to previous Beach Boys releases. It was later reported that Brian was devastated by the comparative commercial failure of Pet Sounds in his own country (US number 10), and felt mortified a year later when the Beatles' Sgt. Pepper's Lonely Hearts Club Band was released.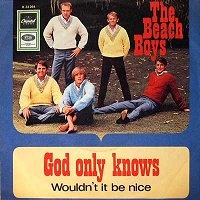 It was not widely known that Brian had already experienced two nervous breakdowns, retired from performing with the group and had begun to depend on barbiturates. Even less public was the breakdown of his relationship with his father and the festering tension within the band. The brief recruitment of Glen Campbell, followed by Bruce Johnston, filled Brian's place in public. Through all this turmoil the Beach Boys rose to their peak at the end of 1966 with arguably their greatest achievement, 'Good Vibrations'. This glorious collage of musical patterns, with its changes of tempo, unusual lyrics, and incredible dynamics, earned Brian and the band the respect of every musician.
The group embarked on a major tour of Europe with a new single, 'Heroes and Villains', another innovative excursion with intriguing lyrics by Van Dyke Parks. Brian, meanwhile, attempted a counter-attack on the Beatles, with a project to be known as 'Smile' . This became the band's albatross, although it was never officially released. The painstaking hours spent on this project now form one of pop's legendary tales. Parts of the material surfaced on their next three albums, and further tracks appeared on other collections up until 1971.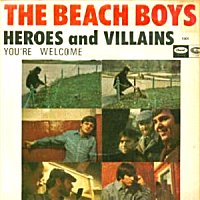 The conflict between Brian Wilson and the other band members was surfacing more regularly. Mike Love, in particular, wanted the other Beach Boys to continue with their immaculate pop music, and argued that Brian was becoming too far out. Indeed, Brian's reclusive nature, fast-increasing weight, and growing dependence on drugs added fuel to Love's argument. Observers felt that the band could not raise themselves to the musical level visualized in Brian's present state of mind. Smiley Smile in 1967 and Wild Honey the following year were comparative failures in the charts by previous Beach Boys standards. Their music had lost its cohesiveness and their mentor and guiding light had by now retreated to his bed, where he stayed for many years.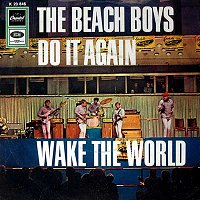 In Europe the group were still having hits, and even had a surprise UK chart-topper in 1968 with 'Do It Again', with Love's nasal vocals taking the lead on a song harking back to better times. Love had by this time become a devotee of the Maharishi Mahesh Yogi, while Dennis Wilson, who was emerging as a talented songwriter, became dangerously involved with Charles Manson, later jailed for his involvement in the murders of nine people between 8 and 10 August 1969. Dennis was drained of money, parted from his home, and ultimately threatened with his life by Manson and his followers. Manson and Wilson collaborated on a number of songs, notably 'Never Learn Not to Love', which, although a Beach Boys b-side, had the ironic distinction of putting Charles Manson in the charts. To highlight their discontent, 3 of their next 4 singles were extraneous compositions, namely Bluebirds over the Mountain', and a competent version of Lead Belly 's 'Cottonfields'. The third non-original was the Phil Spector / Jeff Barry / Ellie Greenwich opus 'I Can Hear Music', featuring a passionate lead vocal from Carl, confirming his status as acting leader. He struggled to maintain this role for many years to come. In April 1969 the Beach Boys left Capitol in a blaze of litigation.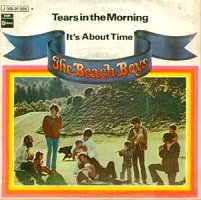 No new product surfaced until August the following year, apart from 'Add Some Music to Your Day' in March 1970. They had the ignominy of having an album rejected prior to that. Sunflower was an artistic triumph but a commercial disaster, on which Dennis contributed four songs including the sublime 'Forever'. Throughout the subsequent 12 months they set about rebuilding their credibility in the USA, having lost much ground to the new-wave bands from San Francisco. They started to tour constantly, even appearing with unlikely compatriots the Grateful Dead. Through determination and hard work they did the seemingly impossible and allied themselves with the hip cognoscenti.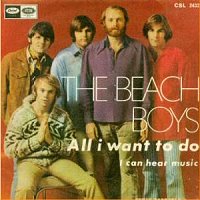 The arrival of Surf's Up in July 1971 completed their remarkable renaissance. The title track, with surreal lyrics by Van Dyke Parks, was another masterpiece, while on the rest of the album it was Carl's turn to offer strong contributions with the beautiful 'Feel Flows' and 'Long Promised Road'. The record's strong ecological stance was years ahead of its time, and the critics were unanimous in favourably reassessing them. As Dennis co-starred with James Taylor in the cult road movie Two-Lane Blacktop, so Brian's life was deteriorating into mental instability.
Miraculously, the band was able to maintain its career, which at times included only one Wilson, Carl, and no longer featured the presence of the long-serving Bruce Johnston. The addition of Ricky Fataar, Blondie Chaplin, and Daryl Dragon nevertheless gave the depleted band a fuller sound. One further album appeared before the outstanding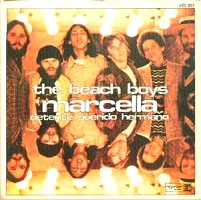 Holland
came in 1973. For this project the entire Beach Boys organization, including wives and children, moved to Holland for eight months of recording. Thankfully, even Brian was cajoled into going, and his composition 'Sail on Sailor' was a high point of the album.
Murry Wilson died of a heart attack in June 1973, but Brian and Dennis declined to attend the funeral. At the same time, the group's fortunes were once again in the descendent as a double live album [In Concert] was badly received, but a year later the compilation Endless Summer, put together by Mike Love, unexpectedly rocketed to the top of the US charts. It spent 71 weeks on the lists, disappeared, and returned again the following year, staying for a further 78 weeks. This unparalleled success reinforced Love and Jardine's theory that all anybody wanted of the Beach Boys was surfing and car songs. With the addition of James William Guercio, formerly of Chicago and ex-producer of Blood Sweat and Tears, the band enjoyed extraordinary concert tour success, and ended 1974 being voted 'Band of the Year' by Rolling Stone magazine. Spirit of America (1975), another compilation of earlier tracks, enjoyed further success, staying on the American charts for almost a year.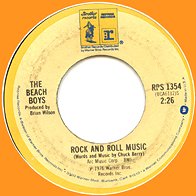 Meanwhile, Brian's condition had further deteriorated, and he underwent treatment with controversial therapist Eugene Landy. The album 15 Big Ones, released in July 1976, gave them a big hit with a cover version of Chuck Berry 's 'Rock and Roll Music'. The publicity centred on a tasteless 'Brian Is Back' campaign, the now obese Wilson being unwillingly pushed into the spotlight. It seemed obvious to all that Brian was a sick, confused, and nervous man being used as a financial tool.
Subsequent albums, The Beach Boys Love You and M.I.U. Album, attempted to maintain Brian's high profile as producer, but close observers were well aware that this was a complete sham. The material was of average quality, although the former showed strong glimpses of Wilson's fascination with childlike innocence. In 1977 they signed a recording contract with CBS reputedly worth $8,000,000, on the terms that Brian Wilson contributed at least 4 new songs and a total of 70 per cent of all the material for each album. The first album under this contract was the patchy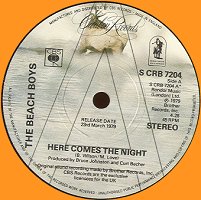 LA (Light Album), with Bruce Johnston recalled to bail them out on production duties. The album did manage to produce a sizeable hit with Al Jardine's 'Lady Lynda'. The most controversial track, however, was a remake of 'Here Comes the Night'; this previously innocuous R&B song from Wild Honey was turned into an 11-minute extended disco extravaganza, and alone cost $50,000 to produce. By this time, Dennis had developed a serious cocaine habit, which hampered the recording of his own solo album, Pacific Ocean Blue. However, he was rewarded with excellent reviews, and now openly verbally abused the other members of the band except for Brian, whom he defended resolutely. When Carl became addicted to cocaine and alcohol, the fragmentation of the group was at its height.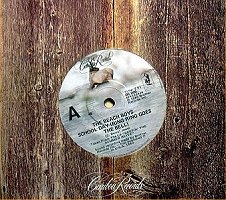 The next official Beach Boys release was Keeping the Summer Alive, a poor album (with an even poorer cover), without the presence of Dennis, who had acrimoniously left the group. He was now living with Christine McVie of Fleetwood Mac. During 1980 only Love and Jardine were present from the original group. Carl delivered his first solo album, a beautifully sung, well-produced record that flopped. One track, 'Heaven', later became a regular part of the Beach Boys' repertoire and was dedicated to Dennis during the 80s. In 1982, Brian Wilson was officially dismissed, and was admitted to hospital for detoxification, weighing a massive 320 pounds.
In December 1983, Dennis Wilson tragically drowned while diving from his boat. Ironically, his death reportedly snapped Brian out of his stupor, and he gradually re-emerged to participate onstage. A clean and healthy-looking band graced the back of the 1985 Steve Levine-produced The Beach Boys. Following this collection they found themselves without a recording contract, and decided to concentrate purely on being a major concert attraction, traveling the world. While no new albums appeared, they concentrated on singles, including an energetic, well-produced 'Rock and Roll to the Rescue', followed by their version of the Mamas and the Papas' classic 'California Dreaming', with Roger McGuinn featured on 12-string guitar. In 1987, they teamed up with rap act the Fat Boys for a remake of the Surfaris' 'Wipe Out'.
In 1988, a phoenix-like Brian Wilson returned with the solo album that his fans had awaited for over 20 years. The critics and fans loved it, but the album sold only moderately well. At the same time, the Beach Boys released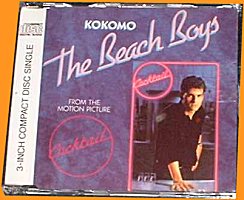 'Kokomo', which was included in the Tom Cruise film Cocktail, and unexpectedly found themselves at the top of the US charts for many weeks. In May 1990, the Beach Boys took Brian Wilson to court in an alleged attempt to wrest his $80 million fortune from him, maintaining that he was insane and unable to look after himself. His medical condition was confirmed (extreme introversion, pathological shyness, and manic depression). Wilson defended the case but reluctantly accepted a settlement by which he severed his links with Eugene Landy. Wilson was then officially sacked/resigned and proceeded to recoup monies that had been pouring in from his back catalogue. Murry Wilson had sold his son's company, Sea of Tunes, to another publisher in 1969, and during this latest court case, Wilson testified that he was mentally ill and a casualty of drug abuse at the time. Wilson won the case and received substantial back royalties. The dust had barely settled when Mike Love issued a writ to Brian Wilson claiming he co-wrote 79 songs with him, including 'California Girls', 'I Get Around,' and 'Surfin' USA' (the latter was 'borrowed' from Chuck Berry). In 1993 the band continued to tour, although their show was merely an oldies package.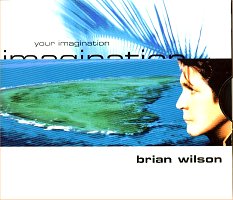 During 1994 mutterings were heard that the pending lawsuit would be settled, as Love and Brian were at least speaking to each other. Late that year it was announced that a substantial settlement had been made to Love, effectively confirming all his claims. In February 1995 a thin, handsome, recently remarried Wilson and a neat, lively-looking Love met at the latter's home. Not only had they mended the rift but they were writing songs together. Early reports indicated both enthusiasm and a desire to make up for many years of wasted time. Instead they released Stars and Stripes Vol. 1, a lacklustre album of old Beach Boys songs featuring various country artists on lead vocals. Wilson's collaboration with songwriter Andy Paley (who co-wrote material on Brian Wilson) produced several much-hyped tracks, and kindred spirit Sean O'Hagan from the High Llamas was flown over to co-ordinate the mooted album. The sessions ended in confusion and discord, however, and no new material has been forthcoming, with Brian going on to record a second solo album. Carl Wilson began treatment for cancer in 1997 and, with Al Jardine, decided to take action against Brian Wilson for statements made in his autobiography. Carl's health steadily deteriorated, and his death in February 1998 robbed the band of their sweetest voice.
With the forced departure of Alan Jardine from the touring band in 1998, The Beach Boys, were fractured in all but name only. Mike Love and Bruce Johnston continues to tour as "The Beach Boys," while Al Jardine has been forced to tour under various solo monikers, releasing a fine live CD "Al Jardine Family & Friends Live in Las Vegas." Brian Wilson has remarkably moved from strength to strength as a solo artist, launching several acclaimed tours in the United States and the UK, most notably his critically-lauded "Pet Sounds Live" shows, which were later released on CD and DVD. In 2004 he is planning to release his next solo album of original material and will be touring the UK with a first-ever live presentation of the famous lost album, "Smile," raising fans' expectations that an archival release of this album will be soon available.
Much has been written about the band, and to those wishing to study this institution,
David Leaf's book
is highly recommended.
Timothy White's recent book
adds information that had previously never surfaced, and is a well-written documentary of California life. Their career has been rolling, like the tide their great songs evoked, constantly in and out, reaching incredible highs and extraordinary troughs. Through all these appalling experiences, however, they still reign supreme as the most successful American group in pop history. With the death of Carl Wilson and the continuing absence of Brian, who is concentrating on his solo career, it would seem unlikely that the remaining members can continue. The Beach Boys without a Wilson is like surfing without any waves.