---
NOTE: Forty-five years after the Beach Boys were first formed, their influence still inspires generations of songwriters, and the tribute albums to their musical impact upon modern pop music continues to inspire music both reverent and profane. Despite the continuing plethora of tribute albums to The Beach Boys, most of the choices here are pretty clear-cut - some gems, a lot of garbage, and some pointless exercises in the art of selling The Beach Boys sound to a new generation.
---

Disney's Beach Party!
Disney Records 861275 [CD];
Released June 14, 2005







1. Fun, Fun, Fun (0:00)
2. Help Me Rhonda (3:03)
3. Be True to Your School (2:38)
4. Good Vibrations (3:58)
5. Surfiní U.S.A. (2:21)
6. Barbara Ann (2:24)
7. Here Comes Summertime (3:35)
8. I Get Around (2:22)
9. Sloop John B (3:25)
10. California Sun (2:37)
11. Dance Dance Dance (1:55)
12. Catch a Wave (2:11)
13. California Beach Boys Day (3:16)
14. When You Wish Upon a Star (3:07)
REVIEW: I actually had pretty high hopes for this album, since first, the Disney brand usually ensures that some money was spent on the product, and second, one of the producers of the album is Mark Linett, who is a huge fan of early Brian Wilson producing techniques, and has even worked with Brian on some unreleased music. And both of those reasons make this album worth checking out, as the album boasts impressive sound, and the cover band tackling the songs (Fred Mollen and the Blue Sea Band) are first rate. That, plus the overall design of the CD is very cool, with the cover art and inserts all boasting first rate design. Also of interest to Beach Boys fans are the presence of Brian Wilson band members Darien Sahanaja and Jeff Foskett contributing to the rich backing vocals. But there are a couple of minuses which might dampen the enthusiasm of the average Beach Boy fan, but then again, maybe not. First, the album is stitched together by the voice-overs of popular Disney characters Mickey Mouse, Minnie Mouse and Goofy, with the three all playacting a trip to the beach. Their repeated intrusions at the openings, and endings of nearly every song, as well as their cutesy banter between every track is only fun once or twice (if I hear another "Gawrsh!" I think I'll scream.) The second minus for me is the presence of a children's chorus that intrudes upon most of the choruses, and they're completely unnecessary, since Fred Mollen and Co. are very much up to the challenge of making an incredible-sounding Beach Boys album all by themselves. If you're the parents of small children, you may very well find these two factors to be a plus in their listening enjoyment, but for anyone else, it's all too cutesy for repeated listening. Of the 14 songs listed, only ten are Beach Boys covers, with "Here Comes Summertime" being a fine, hook-filled newly-composed original; "California Sun" being a cover of the Rivieras 1961 hit single (which has been used as a jingle for Disneyland), and "California Beach Boys Day" a bouncy, but obvious Beach Boys pastiche. The album closes out with a Four Freshman-styled take on "When You Wish Upon A Star", which may seem disingenuous for a Beach Boys album, until you remember that Brian cited this song as the direct inspiration for "Surfer Girl!" All in all, I recommend this album for Beach Boys fans due to the professionalism and fun, but fair warning for all those with low tolerance for cuteness - you may find yourself gnashing your teeth at some moments here.
---
Carl Wilson: Under God (Endless Summer Quarterly Exclusive)
ESQDWCD 60 [CD];
Released December, 2006






Purchase directly from ESQ CD's are not available for individual sale

1. Brian Wilson - Believe In Yourself




2. Tom Jacob - Take Your Place (In History)




3. The Ladykillers - Emotional Surf (Soul Singer)




4. Robert Lamm (with Carl Wilson & Gerry Beckley) - Watching The Time Go By




5. Justyn Wilson - Under God




6. Randall Kirsch & Christian Love - When I Get to Heaven (The "Oh" Song)




7. The Olive Branch (featuring John Hunter Phillips) - Don't Say It's Over




8. The Rip Chords - Ocean Breeze




9. Matthew Jardine - Faded




10. Paul Steel - Rust and Dust




11. Chris English - Sunshine Routine




12. It's Only Roy - Gentle Soul (We Can Still Hear You)


13. Philip Bardowell - I Remain Faithful
14. David Marks - Long Promised Road
15. Peter Lacey - There's A Feeling
16. Alan Boyd - LMFW (I'm Feelin') / Don't Be Afraid of the Dark
17. Desi Arnaz Jr. & Billy Hinche - My Old Friend
18. Beckley-Lamm-Wilson - Sheltering Sky
19. Spihunt - You'll Always Be There
20. Beckley-Lamm-Wilson - I Wish For You

REVIEW: In his liner notes for this release, Endless Summer Quarterly's David Beard talks personally about his own recent spiritual awakening, coinciding with his desire to celebrate the music and spirituality of the late Carl Wilson. In particular, he says that he could feel the muse of Carl Wilson brooding over the project as it neared completion. There is a spiritual thread divining itself throughout the album, but it doesn't begin immediately - in fact, I almost felt I'd put in the wrong disc when Brian Wilson's bouncy "Believe In Yourself" jumped out of the speakers - followed by Tom Jacob's "Take Your Place (In History)" and The Ladykillers "Emotional Surf (Soul Singer)" - their alt/rock sensibilities seemed to be the antithesis of Carl's gentle spirit; clashing with the purpose of the album. But by the time Justyn Wilson's gentle, asymmetrical "Under God" came around, and then the lovely "When I Get To Heaven" followed, with Christian Love's pure voice pouring out of the speakers, that's when the album began to resonate with me.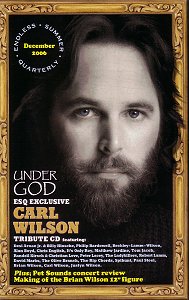 The rest of the album flows beautifully along, with highlights including The Olive Branch's "Don't Say It's Over", The Rip Chord's amiable "Ocean Breeze", Paul Steel's lightly psychedelic "Rust and Dust" which segues seamlessly into Chris English's "Sunshine Routine". And although David Beard states that he feels that "Under God" in the keystone song on the album, for me, it was the "Long-Promised Road" rewrite, "Gentle Soul (We Can Still Hear You)" which really captures the mood of Carl Wilson, with thick harmonies, Carl-like vocals, and Pet Sounds instrumentation completing the homage to the sweet-voiced Wilson. What's particularly touching about this album is the judicious inter-cutting of interviews with Carl Wilson, telling in his own words how music is an expression of spirit, and people are spirit. It perfectly sums up Carl's attitude towards music-making, and

Under God

manages to capture that peculiarly Wilson-esque feeling in many of its tracks. More favorites include Philip Bardowell's soul-wrenching "I Remain Faithful", David Marks low-key, bluesy take on "Long Promised Road", and Desi Arnaz Jr. & Billy Hinche's "My Old Friend", which is tinged with grief, but brimming with hope and beauty. And last but not least, Spihunt's gracious "You'll Always Be There" has also become a favorite. Perhaps best of all, several tracks from the Beckley-Wilson-Lamm

Like A Brother

CD make their encore here, and sound infinitely better in this context than on the lukewarm original album, with Carl's own "I Wish For You" a fitting benediction. Accompanying the CD is a full issue of

Endless Summer Quarterly

, filled with track-by-track comments, essays by close friends of Carl, and several well-chosen photographs. If you haven't checked out this ESQ exclusive, I highly recommend it.
---
Rockabye Baby! Lullabye Renditions of The Beach Boys
Baby Rock Records 9812 [CD];
Released October 10, 2006




1. Surfer Girl
2. In My Room
3. Surf's Up
4. Let's Go Away For Awhile
5. Our Prayer
6. The Warmth Of The Sun
7. Caroline No
8. God Only Knows
9. Don't Talk (Put Your Head On My Shoulder)
10. You Still Believe In Me
11. Wouldn't It Be Nice
REVIEW: You know, if I knew when I was younger that it took so little imagination and talent to create a music CD, I would've churned out a hundred albums by now. One listen to Baby Rock Records churned-out product has me thoroughly convinced that I am equally the artist of anyone at this label. Shoveling out cheaply conceived, produced, and performed product like this by the truckload, young, newborn-awed parents might just be gullible enough to fork over their hard-earned dollars for programmatic slush like this. Much like Vitamin Records, who puts out the somewhat imaginative string quartet albums above, Baby Rock Records is solely devoted to strip-mining classic rock anthems and pasteurizing them into baby-friendly pablum. This album, with it's "awwww, how cute" scribbled album cover which could've been drawn by any competent grade-schooler, takes a handful of Beach Boys ballads and runs them through a synthesizer who's main setting seems to be "Music Box". Each song is the same, with soft, bell-like chimes, synthesized strings, and a gentle, drowsy mood that's perfect for putting a squalling child to sleep. And, trust me on this, it does its soporific job very, very well indeed. I felt myself nodding off several times during the listening process, hoping against hope for some change in mood or format, but nope - every single song here seems to be played on the exact same instrument, with the exact same settings, for every track. I give it one star for achieving its main objective, being perfect sleepy-time music, but having to leave off all others for being artistically sterile. If Art Garfunkel had married Mister Rogers and had spawned a musical love child legacy, this album would be it. If this kind of soft-serve musical mush suits your particular palette, you might want to check out the many other albums
which Baby Rock Records have put out.
---
Long Promised Road: Songs of Dennis & Carl Wilson [LIVE]
Adam Marsland's Chaos Band (featuring Evie Sands and Alan Boyd)
KARMA FROG 0622 [CD];
Release December 1, 2006








1. What The Hell
2. Meanwhile
3. Don't Look Back (Don't Look Down)
4. The Big Bear
5. River Song
6. Moonshine
7. Got To Know The Woman
8. Angel Come Home
9. Long Promised Road
10. Where I Belong
11. The Trader
12. What's Wrong
13. Wouldn't It Be Nice To Live Again
14. Carry Me Home
15. Forever
16. Keepin' The Summer Alive
17. All I Want To Do
18. I Can't Let Go
19. What The World Needs Now Is A Good Deus Ex Machina
20. Celebrate The News
21. bonus track - River Song (rehearsal)
22. bonus track
REVIEW: Adam Marsland has been kindly keeping us apprised of the progress of this album by postings on our message board, and by streaming sound clips on his myspace website. For fans of the Beach Boys, especially hard-core fans, this album is a real gem. Totally live, without any overdubs or studio sweetening, this concert, which was recorded at Brennan's in Marina Del Rey, California, is a crafty homage to the younger Wilson brothers, Carl and Dennis. Since Carl and Dennis have long been overshadowed by their genius older brother Brian, it's daring of Adam to use this entire concert to bring Carl and Dennis's music to the forefront, and not surprisingly, the music holds up very well, and in fact seems enhanced by being performed live, in front of a small, but appreciative audience. The sound on the CD is very close and intimate, with the performances eerily in-tune with the original songs. I can imagine the songs sounding exactly like this if played by the Beach Boys in stripped-down, club arrangements. Vocally, the performances are spot-on, with excellent harmonies weaving in and around the songs, and Adam at times sounding like Dennis Wilson reincarnated. In fact, it feels like the spirits of Dennis and Carl are present at the concert, with the vibe of everything very "Wilson-esque". I wish that the sound was a little less thin, but as it is, the album feels not-unlike Carl and the Passions: So Tough, with an under produced sheen which lends itself to the recreations of "Trader" and the rough honky-tonk of "What's Wrong" but leaves denser productions like "Where I Belong" and "Celebrate The News" feeling under-nourished. But don't let those small quibbles concern you - this is a stellar performance, reverent and extraordinarily accomplished, and a long-overdue recognition of Carl and Dennis Wilson's under appreciated talents. I especially enjoyed Evie Sands' take on Dennis's "Wouldn't It Be Nice To Live Again" with it's thick harmonies and superb lead vocal, as well as Adam's sensitive lead vocal on "Moonshine." On a further note, the original quartet of songs which start the album are excellent, with each of the singers (Evie, Alan, and Adam) given the chance to shine on their own compositions. This is an eye-opening live set, and highly recommended to Beach Boys fans who've yet to fully appreciate the talents of the 'other' Wilson brothers.
---
Do It Again: A Tribute to Pet Sounds [VARIOUS ARTISTS]
Houston Party HPR135 [CD];
Released November 14, 2006






01. Oldham Brothers - Wouldn't It Be Nice
02. Vic Chesnutt - You Still Believe In Me
03. Nobody And The Mystic Chords Of Memory With Farmer Dave - That's Not Me
04. Centro-Matic - Don't Talk (Put Your Head On My Shoulder)
05. Micah P. Hinson - I'm Waiting for the Day
06. Raygun - Let's Go Away For A While
07. Dayna Kurtz - Sloop John B
08. Daniel Johnston - God Only Knows
09. Mazarin - I Know There's An Answer
10. Jody Wildgoose - Here Today
11. Patrick Wolf - I Just Wasn't Made For These Times
12. Architecture In Helsinki - Pet Sounds
13. The Wedding Present - Caroline No
REVIEW: Oh, man! I never know what to expect from these "tribute" albums, which, in a way, is why I both dread and look forward to them. So many have disappointed, and so very few have truly surprised me - but one listen to the wacked-out sounds found on Do It Again has once again turned me into a true believer. Easily one of the screwiest compilations this side of the hemisphere, some of the tracks are Uber-horrific: (Micah P. Hinson's talent-free rendition of "I'm Waiting For The Day" Vic Chestnut's gargling bullfrog take on "You Still Believe In Me") while other tracks are melodic and reverent, like Raygun's brass-heavy "Let's Go Away For Awhile" and the Oldham Brothers super-fragile take on "Wouldn't It Be Nice". I have the same affection for this disc which I share with really bad science fiction movies - it makes me laugh at the sheer ineptness of it all. There's the drunken cowboy lurch of Dayna Kurtz's "Sloop John B" or the loopy schizophrenic back-and-forth banter of Daniel Johnston's "God Only Knows" which alternates with Mazarin's pop-pure take on "I Know There's An Answer" (a great, great cover of this song). Then there's the peppy rush of "Here Today" by Jody Wildgoose or Patrick Wolf's earnest cover of "I Just Wasn't Made For These Times" (which sounds like it could've been a lost track from the Surfsiders' Songbook). Architecture in Helsinki contributes a slightly updated sound-scape for an otherwise carbon copy of the title track, and The Wedding Present strains wildly to hold on to the melody on "Caroline No" which veers into goth rock (no, I'm not kidding) and which brings this disturbingly alluring platter to an end. Whereas some tribute albums have turned me off by their mismatched talent-to-song ratios, Do It Again tips the scale on good taste just enough for me to smile throughout. I really enjoyed being weirded out by this strange aural brew, and I'm going to give it a hearty recommendation to those with an appetite for the off-kilter. (You know who you are!)
---
Mojo Presents: In My Room - A Tribute To The Genius Of Brian Wilson
23 Ears Production [CD];
Released January, 2007







1. The Who- Barbara Ann
2. The Beach Boys- Hand on to your Ego
3. Curt Boettcher- It's a Sad World
4. High Llamas- Leaf and Lime
5. Superimposers- Would it be Possible
6. Stee Almaas and Ali Smith- The Lonely Sea
7. Janand Dean- Like a summer Rain
8. Epicycle- Wake the World
9. Doleful Lions- H.E.L.P is on the way
10. Apples in Stereo- Submarine Dream
11. The Mockers- God Only Knows
12. Elf POwer- All the World is Waiting
13. Mark Wirtz Orchestra and Chorus- I Can Hear Music
14. The Langley Schools Project- In My Room
15. The Barracudas- His Last Summer
REVIEW:

This CD, which was released by Britain's MOJO music magazine in Great Britain in January of 2007, features a slew of both
cover versions of Beach Boys songs, and songs "inspired" by the music of Brian Wilson, most of which has been
released on other albums, but gathered here by producers Dave Henderson and Gillian Short. The album begins with
The Who's frenetic take on "Barbara Ann" and considering Keith Moon's fervent admiration for The Beach Boys, is a
fitting way to leap off. Next comes the Beach Boys initial stab at "I Know There's An Answer": the superior "Hang
On To Your Ego" - the album cover trumpets this track as being "rare" but it's appeared on so many Pet Sounds CDs
that the claim is stretching the truth. Next comes Curt Boettcher's dreamy "It's A Sad World" taken from his Chicken
Little Was Right album, and it's a gorgeous, multi-tracked harmonic mini-masterpiece, much in the mould of his
Saggitarius project. The High Llamas get a nod on "Leaf and Lime" a Bacharach-style lounge ballad which features
their trademark effortless melody and detached performance. The Super-Imposers contribute a similarly languid
"Would It Be Possible" from their debut album, and after three similar-sounding tracks, I'm beginning to think that
MOJO's editors think Brian is strictly a composer of navel-gazing slush. This feeling is reinforced by yet another
ballad - "The Lonely Sea" which is given a breathy, droning reading by Ali Smith. Dean Torrence is sampled on
"Like A Summer Rain" which feels old-fashioned and clunky after the long melodic lines which have preceded it.
The band Epicycle give a nice, easy-going cover version of "Wake The World" which is taken from their Best Of album,
and The Doleful Lions contribute the sole "exclusive" track, a sympathetically sloppy cover of "H.E.L.P. Is On The Way"
with the lead vocalist sounding not unlike Bruce Johnston. Apples In Stereo are next with the slow psychedelia of
"Submarine Dream" with lots of appregios and a thick bass line carrying the song along. The Mockers use power-guitar
chords to start off an interesting cover of "God Only Knows" which successfully reinterprets the song, and makes
it fresh. Elf Power contributes a fuzzy trance rocker, "All The World Is Waiting" which seems to owe less to Brian
Wilson and more to other emo bands, but it still fits in nicely. Mark Wirtz Orchestra & Chorus features a female
soloist on "I Can Hear Music" who sounds like Grace Slick, and the song is faithful to its Spector roots in a thick
production. The Langley School Project is next with their grade-school chorus intoning "In My Room" and The Barracudas
close things out with the spoken-word corn of "His Last Summer" giving a nod to the drama-rock of The Shangri-Las,
and is a strange way to end the album, being perhaps the furthest from the style of Brian Wilson of any of the songs.
All in all this is an interesting collection, and can be found at various second-hand stores.
---
The Sunny Boys: Back To The Beach
Associazione Culturale Easy EA0001 [CD];
Released June 10, 2007








1. Fun Fun Fun
2. California Girls
3. Wendy
4. Surfin'
5. Do You Wanna Dance
6. Surfin' Safari
7. Hawaii
8. Surfer Girl
9. Summertime Blues
10. Good To My Baby
11. Little Deuce Coupe
12. Don't Worry Baby
13. Barbara Ann
14. Catch A Wave
15. And Your Dream Comes True
16. Wouldn't It Be Nice
17. Sloop John B
18. I Get Around
19. Surfin' U.S.A.
20. Good Vibrations
REVIEW: The Sunny Boys, a successful and popular Italian Beach Boys Tribute band have released their first CD, a twenty-track live recording which is excerpted from their massive, FIFTY-FOUR song concert set list, is an excellent document of their enthusiastic, polished performance. The set list is heavily weighted towards the early, Capitol-era Beach Boys, undoubtedly the band's most successful, and popular era, and the band rips through the twenty tracks with such infectious enthusiasm and style that it's a real pleasure to listen to. It's not hard to imagine this sounding not too far from how the Beach Boys themselves sounded in a live setting back in the 1960s. And despite their Italian heritage, the songs are all performed in English, with tight harmonies, propulsive tempos and strong (if occasionally strongly nasal) lead singing. Knowing how complex and intricate Brian Wilson's harmonies are, it's an impressive feat to recreate these harmonies so faithfully. My favorite track is probably the finale, with "Good Vibrations" given a marvelously thick, shimmering psychedelic performance that subtly changes the original arrangement to excellent effect, more closely matching some of the outtake performances heard on bootlegs; but the entire concert is sharp and focused, and the band is obviously having a great time performing live. The recording is well done, bright and clear with minimal audience noise, and the vocals nicely balanced and separated. My only wish would be that the set list was a bit more filled out with some of the other tracks from their concert: I would've loved to hear their renditions of "Darlin'," "All Summer Long," and "You're So Good To Me" which didn't make the cut, but as a hidden bonus track the band tacks on a ripping, reverb-drenched version of "Miserlou" which fades out the disc. Here's hoping that this album is a big seller, so that a sequel can let us hear the songs that got away. Give these guys a listen, and perhaps you'll want to hoof it over to Italy to catch them live.
---
Dennis Wilson: Only With You (Endless Summer Quarterly Exclusive)
EWQDWCD08 [CD];
Released August, 2008







Purchase directly from ESQ CD's are not available for individual sale
1. Carl B. Wilson: Only With You
2. David Marks (w/ Al Jardine): I Sail Away
3. Philip Bardowell: True Love
4. The Duophonic Band: Sound of Free
5. Dean Torrence: Like A Summer Rain
6. Paul Steel & Stephen Kalinich: Ocean
7. Itís Only Roy: Malibu
8. Brian Wilson: Heaven
9. Chris English: Summer Revisited
10. Matt Jardine: Middle of Nowhere
11. Marty Rudnick: Situation
12. John Hunter Phillips: Itís About Time
13. Wayne Tweed: Tell Me What Itís Like
14. DP2: Not Getting Out of Bed
15. Alan Boyd: Lost on the Moon
16. Mitch Schecter: Surferís Lament (instrumental)
17. Peter Lacey: Sublime
18. Carnie Wilson (featuring Brian Wilson): You Are So Beautiful
19. The Ladykillers: Celebrate The News
20. Chris Farmer: California Sleepwalkin'
21. Randell Kirsch & Christian Love: Falling Away As We Rise
22. Carnie Wilson (w/ Marilyn Wilson-Rutherford, Wendy Wilson & The Honey's): Forever
REVIEW: The second in Endless Summer Quarterly's series of excellent tribute albums to the Wilson brothers, Only With You manages to capture the complicated essence of Dennis Wilson within its grooves. From his dissipated, drug-influenced songs like "Only With You" to ragged rock 'n' roll, which is perfectly captured in David Marks' "I Sail Away", I was immediately transported into the sound of the most notorious of Wilson brothers. Dennis always composed his music in broad, emotional swaths, like an artist painting with a large, red brush - and if you love that raw, emotional sound, you will love this CD. The songs run the gamut of styles that Dennis experimented with - from the honky-tonk blues/rock of "True Love" to the tender sentiment in "You Are So Beautiful". Only With You manages to touch the soul of Dennis Wilson again and again. It's all here: epic productions (The Duophonic Band's mighty "Sound Of Free") light Carribean rhythms (Dean Torrence's "Like A Summer Rain") sad, slow, songs of lonliness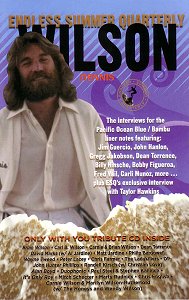 (It's Only Roy's "Malibu") and Brian Wilson's tender cover of brother Carl's song "Heaven", which fits right in. Comparing this with ESQ's previous album devoted to Carl is telling - whereas Carl's tribute album was filled with peace and spirituality, Only With You is tinged with regret and moments of wild abandon. The album even contains pieces of lighthearted joy: "Summer Revisited" by Chris English is light and carefree, with a pure pop sentiment running through it, while Matt Jardine's wall-of-sound "Middle Of Nowhere" may be the best thing here, with a huge hook and chugging track accompanying Matt's fluid vocals. Equally memorable is Marty Rudnick's "Situation" with sweet harmonies and a deathless hook, while John Hunter Philips fine cover of "It's About Time" and Wayne Tweed's hazy "Tell Me What It's Like" are also highlights. I can't say that I thought much of DP2's "Not Getting Out Of Bed" with the lead singer's strident vocals, but I loved Alan Boyd's stripped-down "Lost On The Moon" and Mitch Schecter's reverb-drenched instrumental "Surfer's Lament". As with the Carl Wilson tribute CD, snippets of interview segments with Dennis Wilson are intertwined amidst the songs, and hearing his voice in this context is very touching; and the issue of ESQ that accompanies the CD is similarly excellent, with lots of essays about Dennis, and song-by-song commentary. A great tribute album, with a whole-cloth approach to bringing us back a bit of the soul of Dennis Wilson.
---
The Beach Boy: A Musical Play Tribute - Featuring the Beach Boys Music
Brian Keane
hitsongrecords [CD-R];
Released 2009





1. Let's Go To San Francisco intro
2. Kennedy Inaugeration
3. Surfer Girl/In My Room/Warmth of the Sun intro
4. Sloop John 'B'
5. Jingle Dandruff
6. Don't Worry Baby
7. Helicopter Vietnam
8. Then I Kissed Her
9. Goodmorning Vietnam
10. California Girls
11. Jingle Barbie, Viceroy Cigarettes, Steve McQeen
12. Barbara Ann
13. Jingle 7up, Chinese Food
14. God Only Knows
15. Jingle Classic Cars
16. Fun Fun Fun
17. Jingle Coca Co Cola
18. I Get Around
19. Jingle Colour TV
20. Little Deuce Coupe
21. John Lennon Jesus Statement
22. You're So Good To Me
23. Jingle Slinky
24. Do It Again
25. Assination of Kennedy, Pizza Roll Jingle
26. Wouldn't It Be NIce
27. Happy Birthday Marilyn Monroe
28. Surfin USA
29. Stars and Stripe Spoof President
30. Help Me Rhonda
31. Anti-Vietnam Riots USA Embassy London 1968
32. Good Vibrations
33. Let's Go To San Francisco Reprise Radio DJ
REVIEW: I accidentally stumbled across information for The Beach Boy on YouTube, checked out the website, left with more questions than answers, but ordered the advertised CD to see what it was like. The CD is apparently the soundtrack to a Beach Boys-themed musical that I have never heard of. On the website, Mr. Keane (or Tom Lake) claims that the show has been performed by himself and others over the past 20 years "in provincial theaters, schools, civic theaters, outdoor events, major cities and smaller towns." So how come I've never heard a breath of it mentioned by other Beach Boys fans? Anyway, the CD is actually pretty good, with more or less faithful recreations of the named Beach Boys songs interspersed with jingles of varying sonic quality, some of which seem to have been recorded right off the TV. It's hard to tell how the show plays out just by listening to the CD, but according to the site the plot concernst a boy from England who comes to California and falls in love with the California mythos, and later suffers and "Jan Berry-like" car crash and spends three years in bed recovering (much like a certain Beach Boy we all know). There are plentiful audio references to the Vietnam War, JFK, and various pop culture touchstones, making this play sound much darker and definitely more interesting than the "other" based-on-The-Beach Boys musical, the ill-fated Broadway musical bomb Good Vibrations which opened (and quickly closed) to scathing reviews in April 2005. In addition to the CD, the site claims a novel based on the play was published, but I can't find a copy anywhere for perusal. Anyway, Brian Keane, who sings all the leads and harmonies on The Beach Boys, does an OK job, although some of the tempos and harmonies are occasionally suspect, it's still an intriguing album, with enough good covers for me to give a unqualified recommendation. The album sells for £4.99, and comes as a CD-R with laser-printed inserts.
---