The Beach Boys

are the premiere rock vocal group in the world. Formed in 1961, brothers Brian Wilson, Dennis Wilson, Carl Wilson along with their cousin Mike Love and schoolmate Alan Jardine blended rootsy Chuck Berry R&B, The Four Freshman's intricate vocal harmonies, and the topical splendor of California's mythos of an Endless Summer into a unique, new form. Crafting a series of hit singles the equal of anything of their contemporaries, the band, under the creative muse of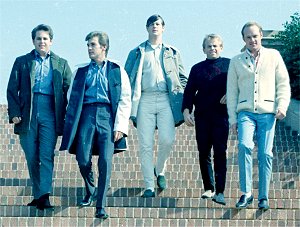 their leader, songwriter and producer Brian Wilson, began to evolve their sound, moving quickly away from their surf, car and sand topicality towards more deeply passionate, introspective songs that examined love, heartache, and longing.
This website - begun in 1993 as a novice's fan site hoping to share my love of The Beach Boys' music, has grown and expanded over the years to include ALL the works of the Beach Boys, as well as their antecedents, contemporaries, and musical heirs. The Beach Boys music, which seemed on the outset to be so much of its time and place, continues to gain new fans and admirers - their sunny, feel-good music, deeply-felt compositions, and still-astounding experimentation have made them the quintissential American Band.
It's my hope that those who are just now discovering the music and influence of The Beach Boys will find this site of value. To navigate, the menu to the left will take you to all the various options this site has to offer; to return to this page - simply click your mouse anywhere on the title graphic. I hope you enjoy your time here - it has been a joy to meet fans from around the world who share the wonder of The Beach Boys sound - music that simply makes you feel good.